Profile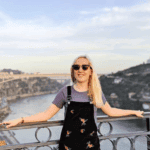 Savannah Clawson
Thank you to everyone who voted for me - I can't believe I've won! :D Thanks also to all the other amazing scientists for the great chats over the last two weeks, I'll miss you guys!
Curriculum Vitae
Education:

I went to school at Queen Elizabeth's School in Crediton, Devon (formerly called Queen Elizabeth's Community College) from 2007-2014. I did my GCSEs and A-Levels there. I did my undergraduate degree in physics (with integrated master's) at The University of Manchester, graduating in July 2018.

Qualifications:

2010-12: GCSEs in all three sciences, astronomy, mathematics and statistics, as well as art, French, English, and world issues. 2012-14: A-Levels in physics, maths, further maths, and geography (plus AS-Level chemistry) 2014-18: Master's degree in physics (MPhys)

Work History:

In my summer holidays, I used to work as a climbing instructor at a children's summer camp. My job would often involve me getting to sit at the top of a tree for the day when I was manning the zip-wire. I was lucky enough to have a summer internship at CERN during my time at university, although I actually worked as a nuclear physicist (shhhh). Funnily enough, I really disliked my project but I loved the atmosphere at CERN so much that I decided I wanted to be a particle physicist instead!

Current Job:

PhD Student in Experimental Particle Physics

Employer:

The University of Manchester (funded by the Royal Society)
Favourite thing to do in my job: Travel to CERN in Switzerland to meet other physicists

About Me: I am a first year PhD student in experimental particle physics with the ATLAS detector (but read more for things that aren't physics-y!)

Read more

I live in Manchester with some of my friends from university but I am originally from Devon in the South West. I get to work with Brian Cox who was one of my idols growing up and I credit his TV shows for getting me into physics, so that's pretty cool! When I am not doing physics, I enjoy action-packed activities like skiing and climbing – I love going on adventures and discovering new places. Living in Manchester is great but I really miss my two dogs, Mylo and Hazel, who live in Devon with my mum.

My Work: I work with Brian Cox to study what happens when particles of light (called photons) smash together at really high energies

Read more

I work for the ATLAS detector, which is really really big! One of my favourite facts about it is that it is as tall as 5 giraffes and weighs nearly as much as the Eiffel tower! My job is to search through all of the data that comes out of ATLAS to try to find specific particles and events that are interesting to us. I do this mostly by writing lots of code to analyse the data and do fancy things with it, then we as humans can interpret the results as physics. I have only just started my PhD so most of my time so far has been spent trying to learn how everything works – it hasn't been easy but it has also definitely been fun!

You might have heard that scientists at the LHC are normally trying to see what happens when we collide protons (or rather, the particles that make up protons, called quarks and gluons) together at really high energies. Whilst this is true, I actually study what happens when the protons don't collide with each other but instead interact in different ways. It is possible for the protons to emit particles of light called photons (this process is known as bremsstrahlung which literally means "braking radiation" in German). If two protons happen to do this at the same time, there is a very very small possibility that these light particles can then interact with each other – introducing my PhD!

The nice thing about studying these interactions is that (in principle) we still have two intact protons left over and it is also possible to detect these further along the LHC ring. I do some work on a special set of detectors designed to find these protons, called the ATLAS Forward Proton detectors. The name "forward" comes from the fact that these protons are travelling along the beam pipe (the forward direction) and therefore the actual ATLAS detector can't see them!

We believe that these processes should be very rare with our current understanding of how physics works. However, some clever theorists have worked out that there are other models of physics (Beyond the Standard Model) that could make these processes much more likely to happen. Therefore, we want to study these processes accurately to see if they behave as we expect, or if there's something new going on. I think most physicists (including me) hope that we see something new because that's far more exciting!

My Typical Day: Wondering why none of my code works!

Read more

I spend most of my days in the office in Manchester, reading and writing code to try to figure out what sort of physics processes we can see in the data that is collected by the ATLAS detector at CERN. It is very rare that my code will work the way I want it to the first time so I spend most of my day trying to figure out what went wrong, often asking my colleagues for help. Sometimes I get to go to other places for meetings and conferences. This often includes being sent to CERN in Switzerland which is pretty nice. Wherever I happen to be during work, I always find time for lots of coffee breaks to chat to my colleagues and friends – sometimes about physics and sometimes not. One of the great things about what I do is that I am constantly working with people from all over the world so you never run out of people to chat to.

What I'd do with the prize money: Donate it to the UoM Physics Outreach group

Read more

If I won, I would use the money to support the University of Manchester (UoM) Physics Outreach group who run loads of cool activities for schools and the general public. We have workshops for school pupils of all ages, ranging from the very big (like planets and galaxies) to the very small world of particles. One of my favourite workshops is aimed at girls who are taking their GCSEs – to show that physics is just as much for them as it is for the boys! We also do loads of events for the general public like science busking at festivals. If you are lucky enough to be going to Bluedot festival at Jodrell Bank this year, keep an eye out for them in the science area!

My Interview

How would you describe yourself in 3 words?

Determined, outgoing and (sometimes) stroppy!

What or who inspired you to follow your career?

Brian Cox documentaries on the BBC when I was in school (and now he is my PhD supervisor!)

What was your favourite subject at school?

It changed all the time, from art to French to science - but maths was always one of my favourites

What did you want to be after you left school?

I originally thought I was going to be a graphic designer!

Were you ever in trouble at school?

My tutor would always tell me off for not following the school uniform rules

If you weren't doing this job, what would you choose instead?

I love aeroplanes so I would love to be a pilot!

Who is your favourite singer or band?

I can't pick one favourite but I like indie electronica music

What's your favourite food?

Can't beat a good pizza

What is the most fun thing you've done?

I was really lucky and got to go to South America with my mum when I was 12. We did loads of fun things like exploring the Amazon Rainforest and seeing giant tortoises on the Galapagos Islands.

If you had 3 wishes for yourself what would they be? - be honest!

1. To be able to travel the world. 2. To contribute lots to the world of science. 3. To have lots of dogs!

Tell us a joke.

Where does bad light end up? In a prism.
---
---