Profile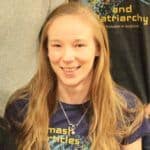 Lucy Budge
My CV
Education

Norwich High School For Girls, Durham University

Qualifications

A Levels: Maths, Further Maths, Physics, Chemistry. Degree: MPhys (master's degree) Theoretical Physics

Work History

Current Job

Employer

I work/study at the Institute of Particle Physics Phenomenology, part of Durham University. We are a group of around 90 scientists working on particle physics. The "phenomenology" part of our name refers to the fact that we work somewhere between theory and experiment. Often working to help the experimentalists understand the results, or to design the experiments to get the best out of them.
About Me:

I'm a PhD student at Durham University studying particle physics. I can usually be found with my puppy, eating chocolate. (she/her)

Read more

I grew up in Norwich, and came to Durham Universtiy to study for a degree in Theoretical Physics. Six years on and I'm still here, now doing a PhD in Particle Physics. I live with my boyfriend and golden retriever puppy Emmy (named after mathematician Emmy Noether), we love exploring the countryside in County Durham and Northumberland.

I love to bake and I have made myself popular within the IPPP by bringing in cakes to share, particularly physics based cakes! The one in the picture below contains the answers to the question "what is your favourite equation?"

My current hobbies are limited by chronic (i.e. almost daily) migraines, but when I have energy I enjoy rock climbing (though I haven't progressed beyond doing it inside yet!). I love sailing and windsurfing; growing up I was a Sea Scout and did a few years of windsurfing racing, however there aren't many watersports areas around me in Durham. I also like to try my hand at some photography, the picture below is Sycamore Gap on Hadrian's Wall (Northumberland).

For those of you who like dogs, here are some more pictures of Emmy out and about in the north east of England! During my first three years in Durham I suffered from depression, social anxiety and disordered eating. A big part of keeping myself mentally healthy is making sure I get out of the house enough and don't get trapped inside my own head. Having a puppy around has been great as I'm out walking her nearly every day and I really enjoy training her and seeing her progress. It gives me a good sense of achievement and is completely separate from my work in physics, so I can keep a good balance between work and the rest of my life.

My Work:

Studying what happens when tiny particles are collided together at very high speeds.

Read more

My work is theoretical, meaning that I do a lot of maths and a lot of computer programming, but I don't actually build or run any experiments! Whether I'm working from home or in the office my desk set-up is pretty similar: two or three computer screens and paper (or blackboard) for any work I need to do by hand. The only picture I have has the dog in…

In more detail: I am focusing on predictions for results at the Large Hadron Collider (LHC) in CERN (the European particle physics research centre, built on the French/Swiss border). In 2012 the Higgs Boson was discovered there, this particle was predicted to exist in the 1960s, and was the last particle to be discovered in the Standard Model, our current best theory for the smallest particles in the universe.

My Typical Day:

I alternate between working in the office and working from home. As a PhD student most of my time is solely focused on research (either calculations using pen and paper or writing code – or a mixture of both!). I usually have small projects alongside: planning outreach events for example.

What I'd do with the prize money:

Donate to a charity that increases access to science

Read more

We are lucky in my research group as we get funding through Durham University for our science outreach events. In the last couple of years we have been to London, Orkney and Grantham as well as many events in Durham.

Therefore I would like to use the money (if I win!) to help improve diversity in science. Whether that's based on gender, race, or overall background. It is incredibly important to have people with different ideas working together in science. I haven't (yet) decided where to donate the money, but I will update here when I have!
My Interview

How would you describe yourself in 3 words?

Enthusiastic, hard-working, thoughtful

What or who inspired you to follow your career?

My chemistry teacher suggested I read 'In Search of Schroedinger's Cat' (John Gribbin) and I became hooked on learning about quantum mechanics and particle physics.

What was your favourite subject at school?

Chemistry, until A Levels!

What did you want to be after you left school?

A physics researcher

Were you ever in trouble at school?

I could be quite chatty at times...

If you weren't doing this job, what would you choose instead?

Computer programming/software development

Who is your favourite singer or band?

Difficult... I think Bastille based on who I most want to see live.

What's your favourite food?

Chocolate

What is the most fun thing you've done?

I can't think of anything that stands out above everything else, but I'm always happiest when on a walk exploring the countryside in Northumberland.

If you had 3 wishes for yourself what would they be? - be honest!

No more migraines! I feel I'll need all three they are so stubborn...
My profile link:
https://ias.im/u.220008
---
---