Profile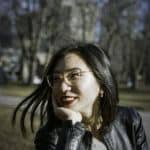 Joanna Huang
My CV
Education

University of Toronto (HBSc), Imperial College London (MSc), University College London (PhD in progress)

Qualifications

Canadian Secondary School Diploma, Bachelor's degree, Masters degree

Work History

Several physics summer studentships (at universities & research institutes). One was about exploding stars, another was about particle accelerator technology at CERN, and the last one was building a device to stabilize laser beams.

But prior to physics, I also did a few internships in the medical field. One had a focus on brain blood flow patterns in patients with Alzheimer's Disease, and the other in patients who had suffered Traumatic Brain Injury. I was also interested in psychology at some point, and held a short lab assistant position researching prejudice and stigma across age and racial groups. Lastly, way before all these research positions, in my very first year of university I worked in retail at a very posh clothing store.

Current Job
About Me:

About me in one sentence? Impossible, please go ahead and click read more 😀

Read more

15 minutes were spent coming up with the above sentence, oh dear. I come from the far away land of maple syrup – Canada. For the past couple of years, I've been living in London, and spending my time either (1) learning physics, (2) learning to code, or (3) rock climbing. Please see the very awesome photo below, which was definitely candid and not purposefully posed.

That was from my trip to Kalymnos (Greece), earlier this year, which is filled with either locals or enthusiastic rock climbers. In general, I adore being outdoors (preferable on mountains) and doing some kind of sport.

Aside from that, I love cooking as well, and spending time chatting with my two little brothers, who have endless profound questions I struggle to answer. But hey, it's good training for exactly something like this!

My Work:

Younger me wanted to be an astronaut, the closest I got was a particle physicist

Read more

Somewhere on the border of Switzerland and France, there is a monstrous underground tunnel that is powerful enough to speed up tiny tiny particles close to the speed of light. Then at some point, these particles are made to collide and BOOM BOOM BOOM we see all the incredible collisions, and all the particles flying out of the collisions, through our detectors.

This is the Large Hadron Collider at CERN. And the detector that I work on is called ATLAS. To go into a bit of detail, my work involves sifting the the insane amount of data that comes from ATLAS, and trying to make sense of it.

This is a reconstructed image of a Higgs boson event, which came from proton collisions. The Higgs doesn't live for very long, and decays into 4 electrons, which produces a very clear signature in our detector (the red/blue bands are the electrons). This type of signature is amongst one of which I am helping to measure 🙂

In the grand scheme of things, my work will help the physics community understand better the Standard Model (aka the model about the basic fundamental building blocks of the universe), and also in the long run can provide some insight into new physics that hasn't yet been discovered (such as dark matter). Pretty cool stuff!

My Typical Day:

My day to day consists mainly of coding, reading research papers, and lots of snacks and coffee.

Read more

Our generation is the generation of computers. So, unsurprisingly, most of my time is spend hacking out code and making software run! It can be quite challenging at times, but very rewarding when you get nice results.

Coupled with that, I spend a lot of time reading scientific papers on topics that are relevant to my work. I interact a lot with the other scientists and students in my department, and find that they've got a lot to teach me that I can't learn from reading.

As I mentioned, my work also requires me to spend a lot of time on planes. The physics community is very large, and there is a lot of research being done. All of this exciting stuff needs to be shared within the community, so there is an abundance of conferences and workshops that take place all year round, some of which I am lucky enough to attend 🙂

What I'd do with the prize money:

Organize for UCL scientists to go to local schools to give outreach talks

Read more

Often particle physics can seem like an intimidating subject – but I don't think that's the case! I'd like to make use of the prize money to organize several outreach events to local schools around my university. The idea is that one or two students would go to each school, host a workshop/presentation of their liking introducing the students to particle physics, and if computers are accessible, to do look at some real particles and collisions!

I've taken part in similar events as such which were hosted at UCL – the ATLAS Masterclasses (see here) which take place every year. I think that the possibility of bringing the workshop to schools would make it much more accessible. Not all schools have the resources to organize a day trip to UCL, but UCL students definitely have the resources to go to them!
My Interview

How would you describe yourself in 3 words?

Smiles, styled & wild

What or who inspired you to follow your career?

My summer student internship at CERN when I was in undergraduate

What was your favourite subject at school?

Art was actually my number one. Although physics was a close second!

What did you want to be after you left school?

Happy!

Were you ever in trouble at school?

No, never once got caught :)

If you weren't doing this job, what would you choose instead?

Possibly a flight attendant, or possibly living in Nepal

Who is your favourite singer or band?

(one of them is) J. Cole

What's your favourite food?

Anything my momma cooks

What is the most fun thing you've done?

Jump off a 15 meter cliff into a nested water cove, and then getting out and doing it again

If you had 3 wishes for yourself what would they be? - be honest!

(1) To be happy (2) Everyone I love to be happy (3) Fix climate change

Tell us a joke.

Did you know that you can be cooled to -273.15C and be 0K? (p.s. this is definitely original and not from google).
My profile link:
https://ias.im/u.220237
---
---