Profile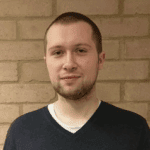 Edoardo Vescovi
Curriculum Vitae
Education:

Humboldt University Berlin, PhD in 2016

Qualifications:

PhD in Theoretical Physics

Work History:

University of São Paulo

Current Job:

Research Associate

Employer:
Favourite thing to do in my job: Discovering that the most elegant mathematical proof may well not be the first one that we stumble upon.

About Me: I am a theoretical physicist working on simple models of the complex system of nature, at the intersection of mathematics and physics.

Read more

I have been working in research for 5 years in different places and landed in London almost 1 ago. Music, movies and London attractions fill the leisure time. I used to be an avid video gamer.

My Work: I develop precise methods to measure things when the forces between particles are either weak, medium or strong.

Read more

My research is of theoretical nature, more similar to mathematics than physics, with no laboratory equipment involved. It is all about simple models of particles that do not directly relate to matter in our universe, but they are simple enough to test and develop mathematical tools that could be used to study matter one day. For example, in these toy models we know how to calculate the force between charged particles and their energy emitted, all this from little input and few basic rules. The dream is that a simple description can be possible for our universe as well.

While my work is done with pencil and paper only, computers help us with the long calculations. Looking at the scratchpad, you'd be surprised that the scribble looks more like hieroglyphics than actual numbers, but the logic is the same of your maths homework: combine some quantities according to some rules and obtain the desired result.

My Typical Day: Keeping up to date with latest findings, working on research projects, speaking with collaborators, helping students.

Read more

The typical day begins with checking the email box and reading the latest scientific articles online. It's basically a desk job with the usual office hours, which I spend doing research, attending our research seminars and discussing new ideas with colleagues in the department or abroad in video chats. I tutor undergraduate students and supervise some of them for their final projects. I occasionally take part in mock interviews for colleagues that are looking for permanent jobs.

Attending conferences with other physicists, presenting my work there and visiting collaborators are important parts of the academic life that makes me travel in the UK and abroad for 1-2 months per year. It allows me to directly interact with other people and address new questions.

What I'd do with the prize money: Outreach activity for pupils and their parents.

Read more

The university organises an annual festival that brings together science and the arts in a programme of talks, exhibitions and performances over a whole weekend. The prize money will help the stand coordinated by the theoretical group to engage a new audience with live demos and interactive experiments.

My Interview

How would you describe yourself in 3 words?

Funny, hard-working, resilient

What or who inspired you to follow your career?

Many readings of divulgation books by the scientific minds from antiquity to the last century.

What was your favourite subject at school?

Maths + physics

What did you want to be after you left school?

What I'm currently doing

Were you ever in trouble at school?

No

If you weren't doing this job, what would you choose instead?

Anything that can add a tile in the knowledge of the natural world.

Who is your favourite singer or band?

None above all, but I like virtually all music of the 70s-90s.

What's your favourite food?

Free food: it always tastes better!

What is the most fun thing you've done?

In hindsight living in São Paulo.

If you had 3 wishes for yourself what would they be? - be honest!

Hard to tell.

Tell us a joke.

It'd be a sad joke.
---
---